Rustic Glamping Wedding Inspiration
Rustic, yet luxurious, thats what this wedding creative is all about. The glorious great Canadian outdoors, beautiful flowers and stunning decor bring a new twist on the luxurious camping or otherwise know as glamping experience. When thinking about our next creative challenge to inspire readers of Canada's luxury wedding magazine, Wedluxe, I was inspired by the natural and rare beauty of the rugged northern Ontario landscape and couldn't wait to blend rich colours and elegant elements bringing new life to such a un-thought of canvas for a wedding. I grew up in Northern Ontario, and spent many summers in Timmins with family adventures in many of the areas rugged landscapes, so this location was near to my heart.  Of course, an incredible collaboration took place to make this all happen. The incredible Toronto, wedding planner, Laura, from Laura & Co. Events gave endless support to such a feat!  When discussing the reality of committing to a multiple day shoot over 8 hours away, Laura never hesitated for a minute and dove into this project despite its many challenges. We were blessed to work with an incredibly talented team who also committed to flights and much effort so far away from home and  some of Toronto's top wedding vendors, including Mike and Eric from 5ive15ifteen Photography who nailed every single image. See below post for a complete list of vendors.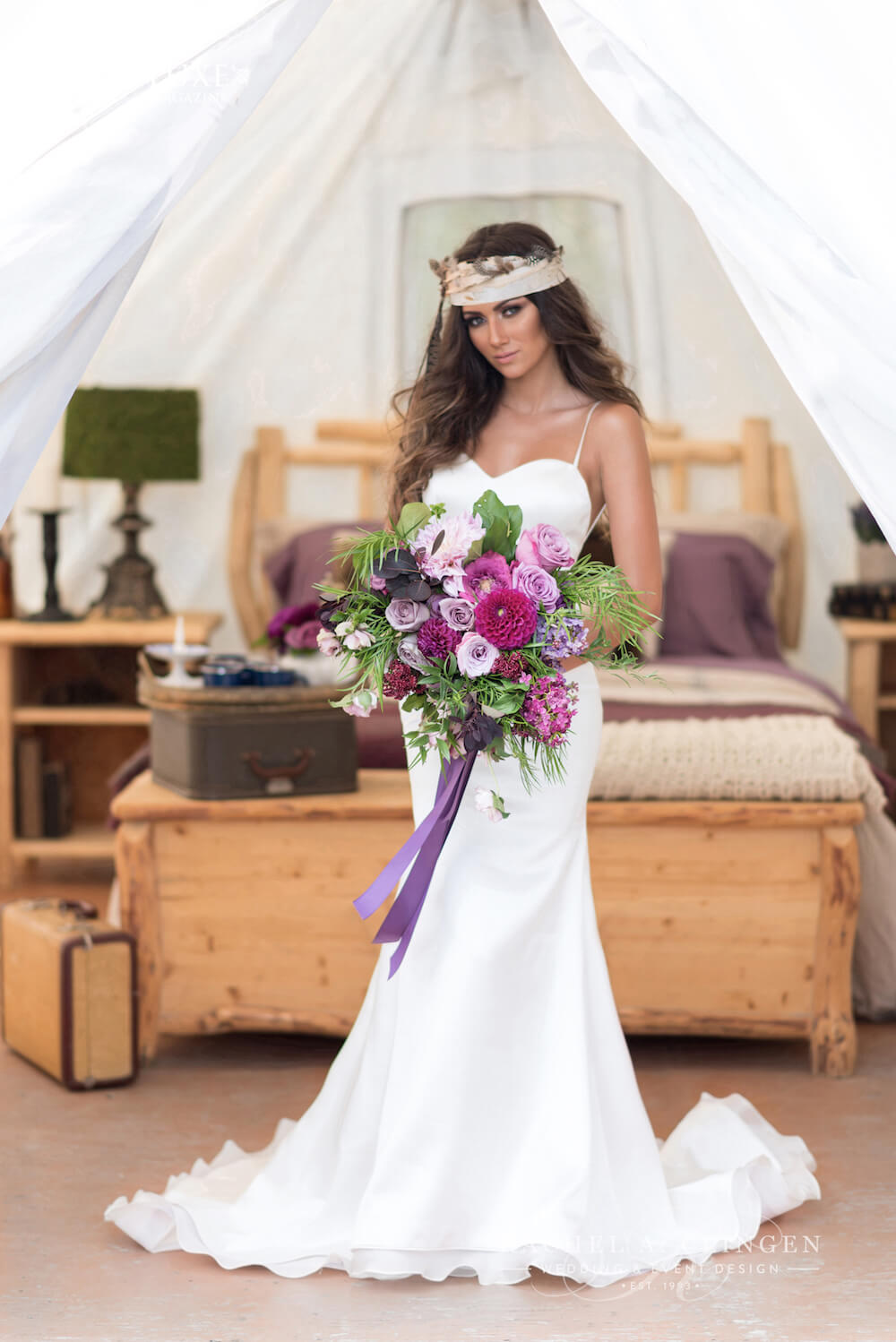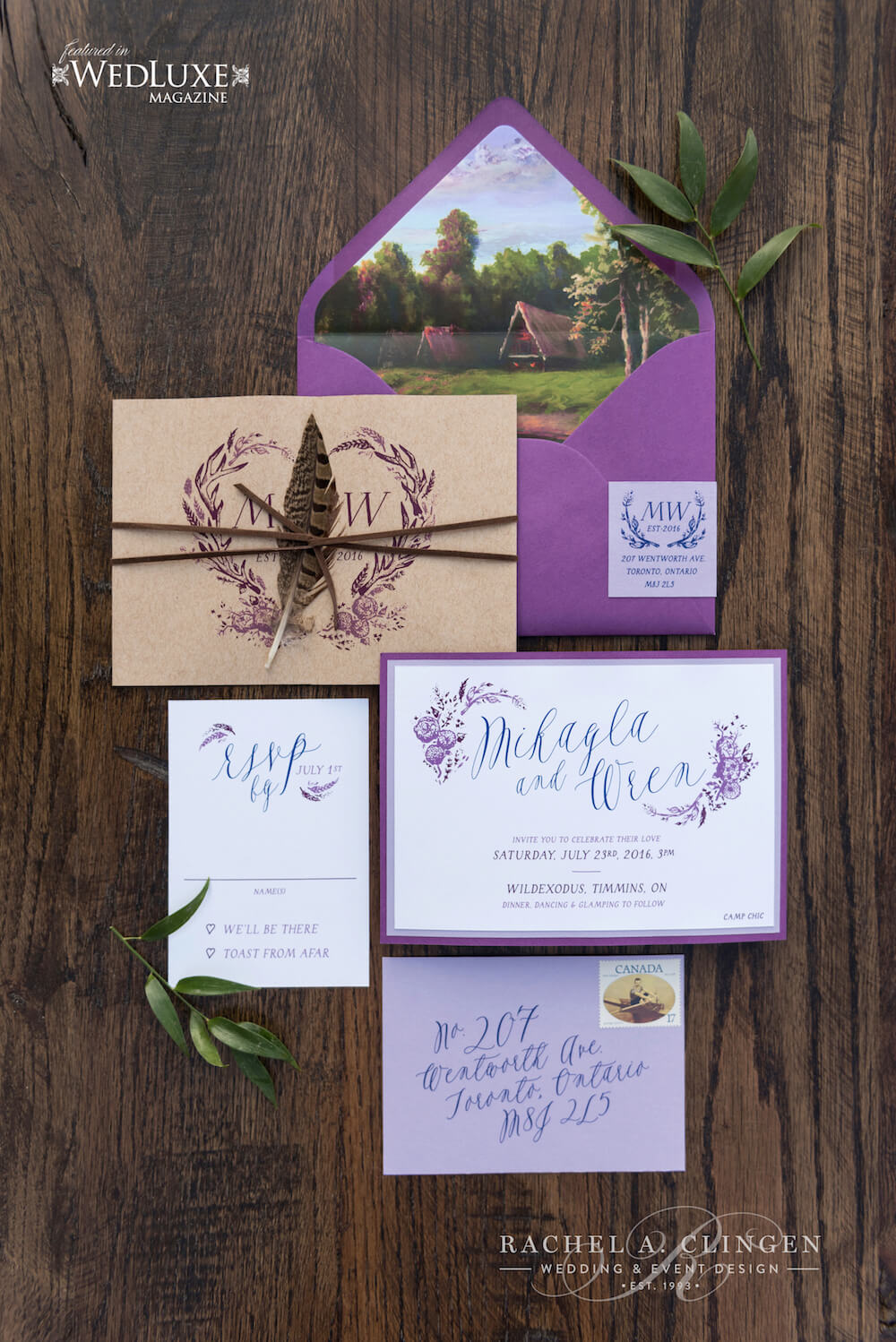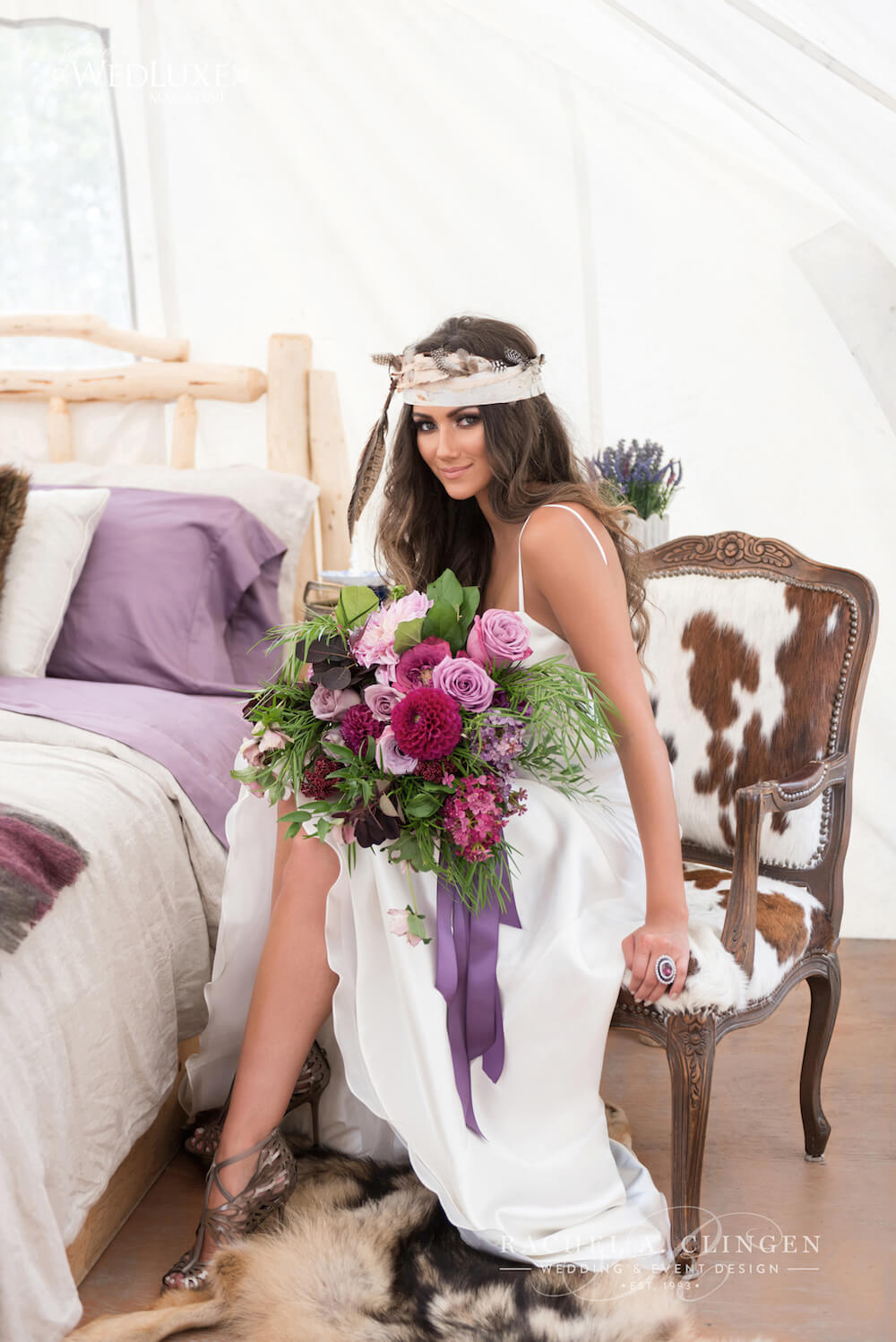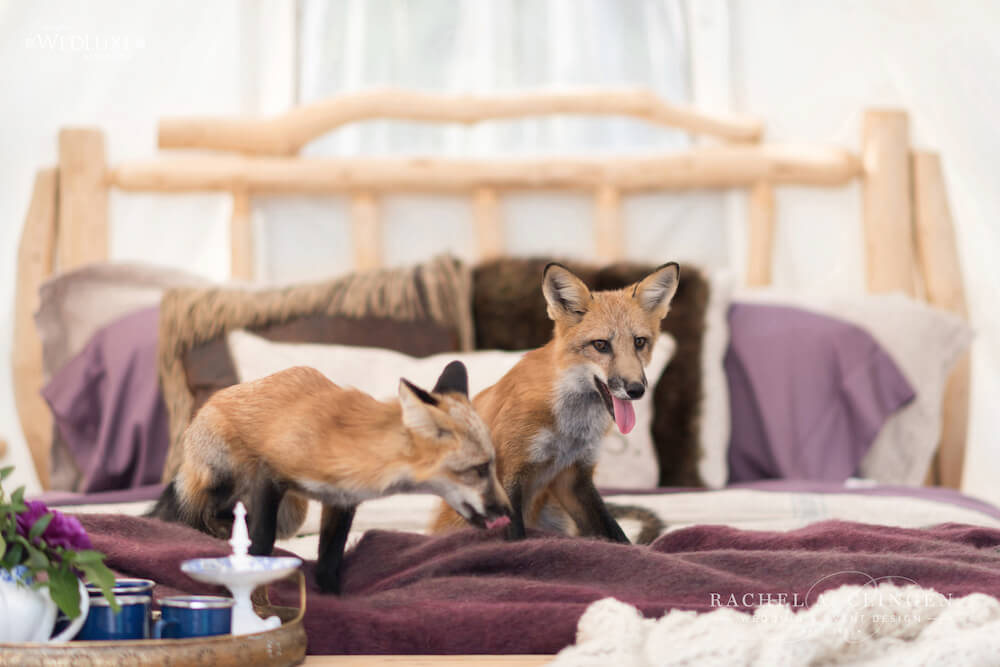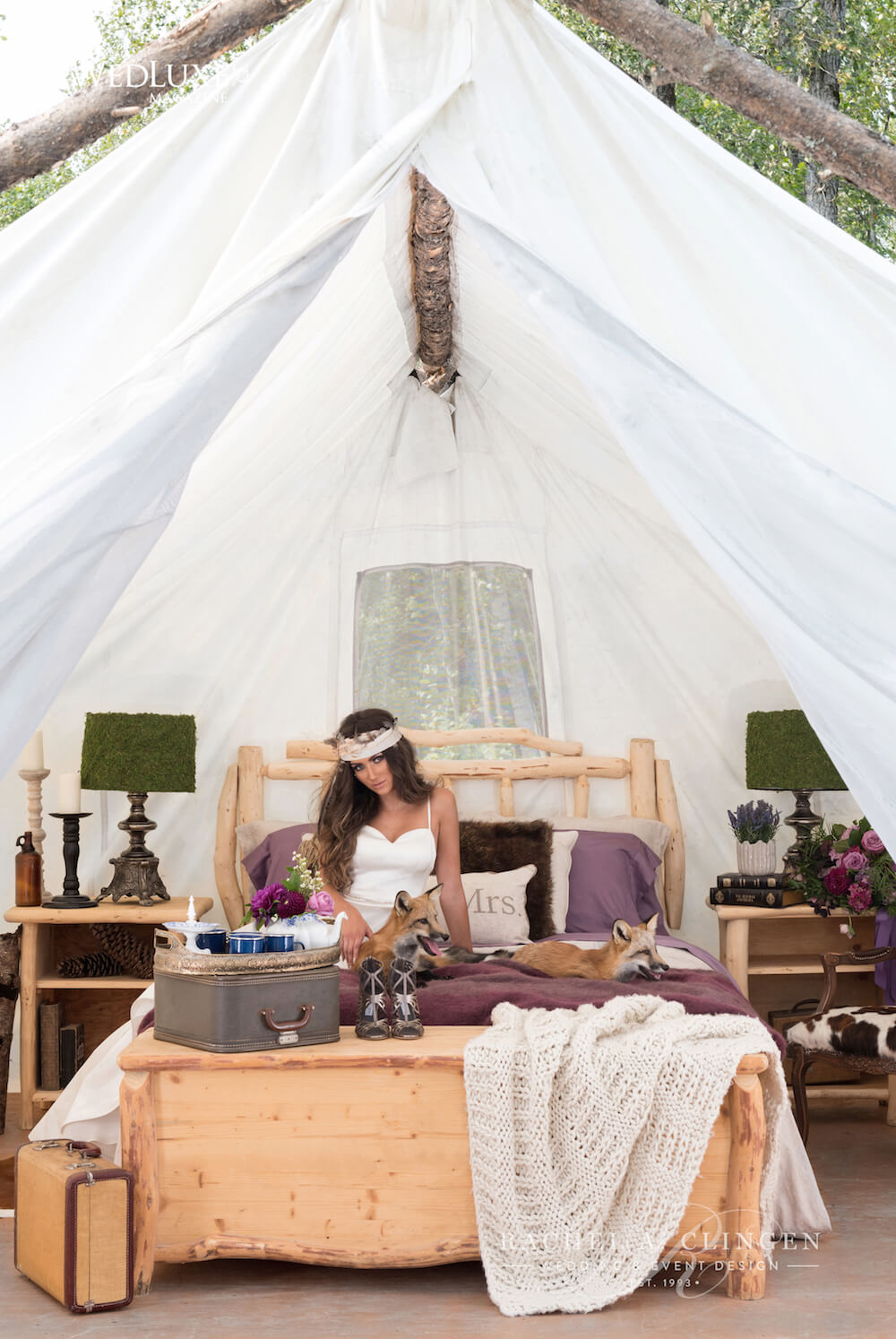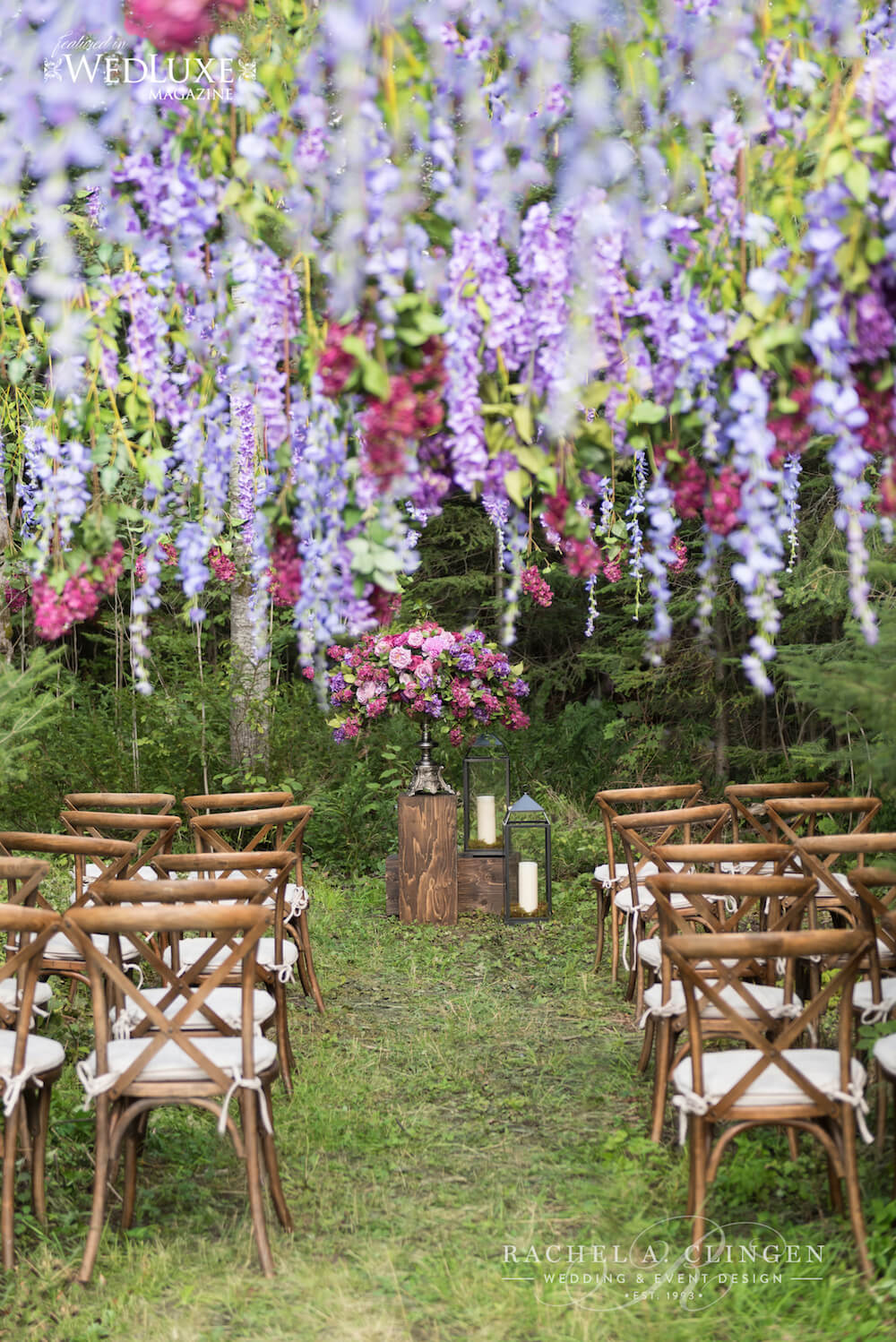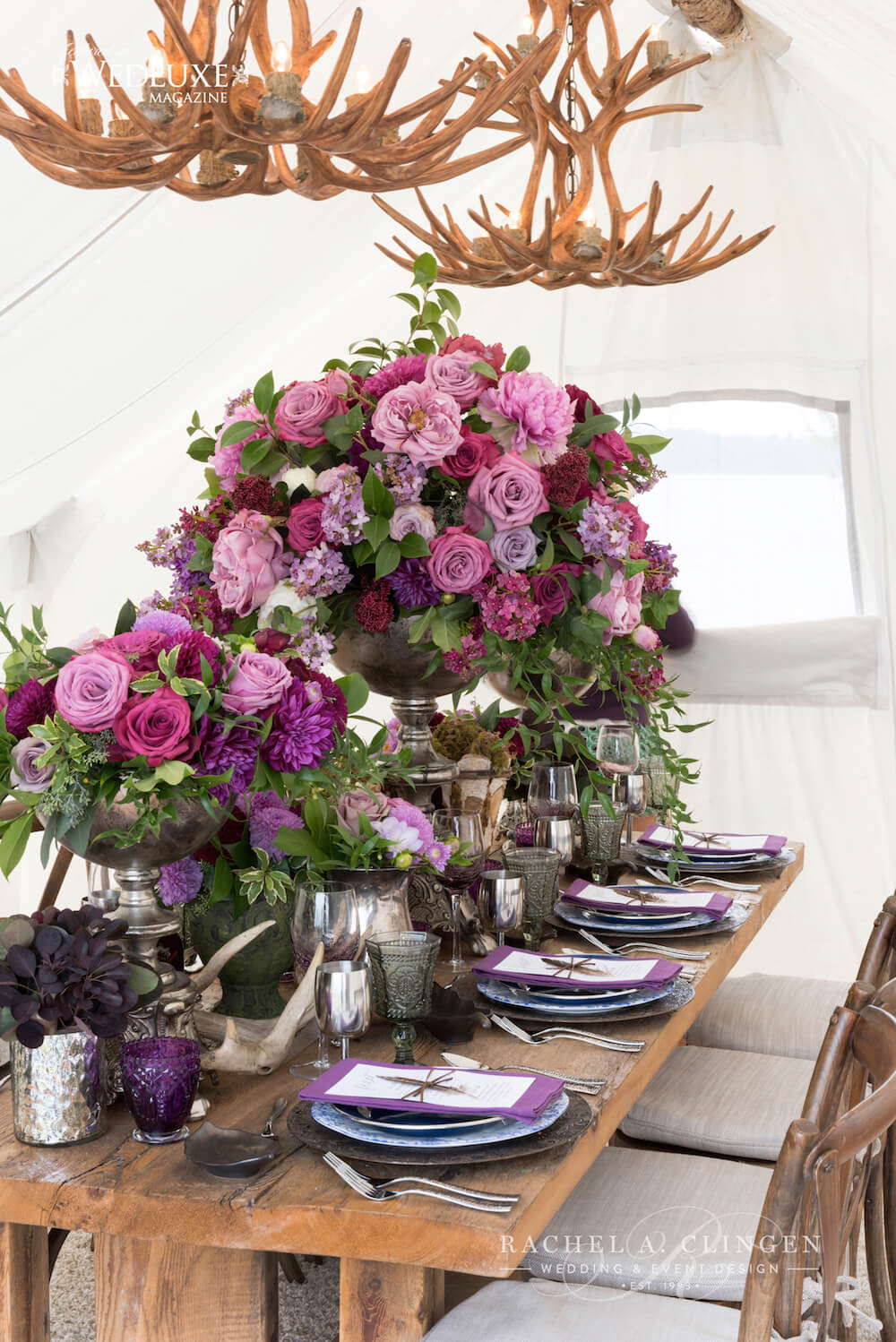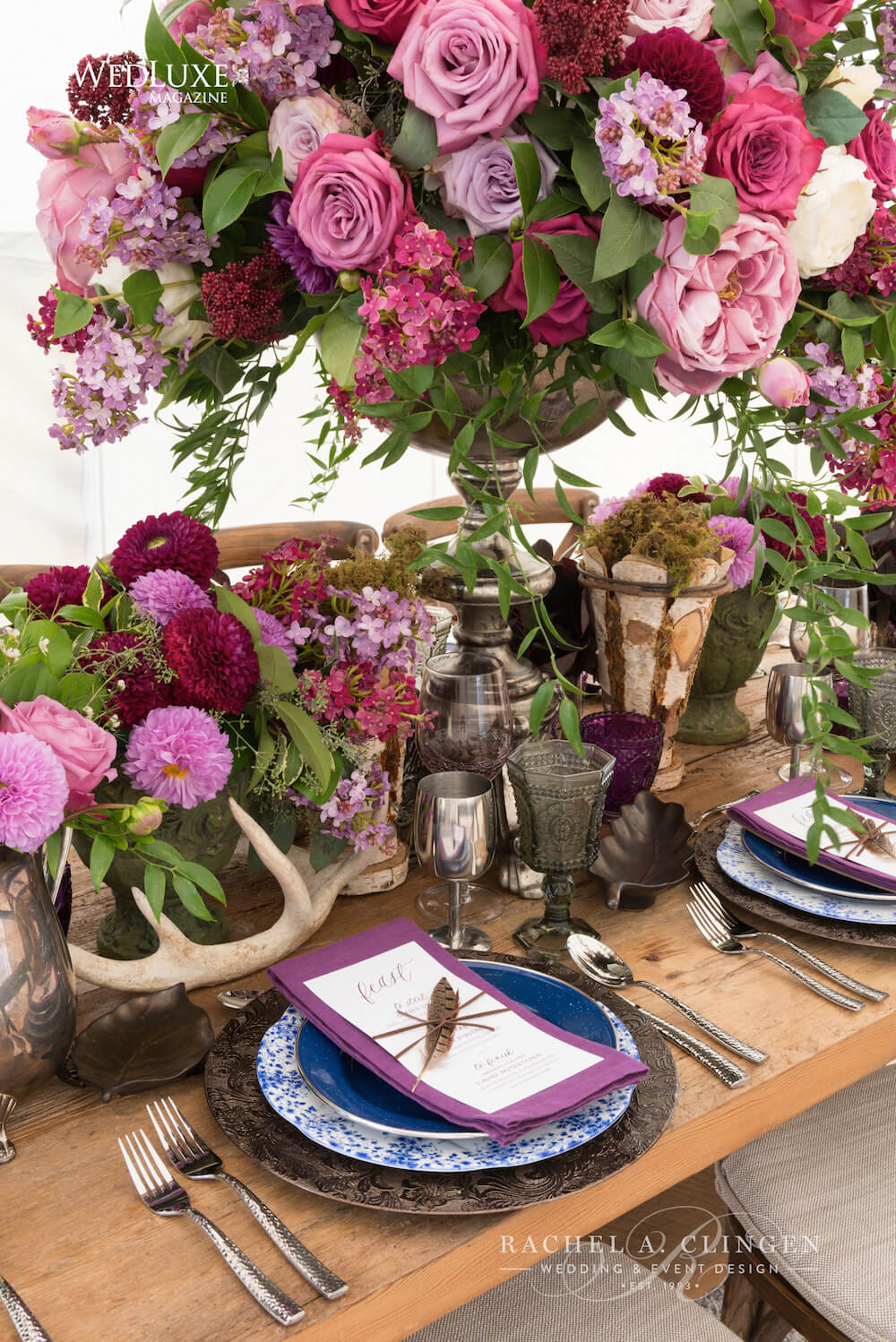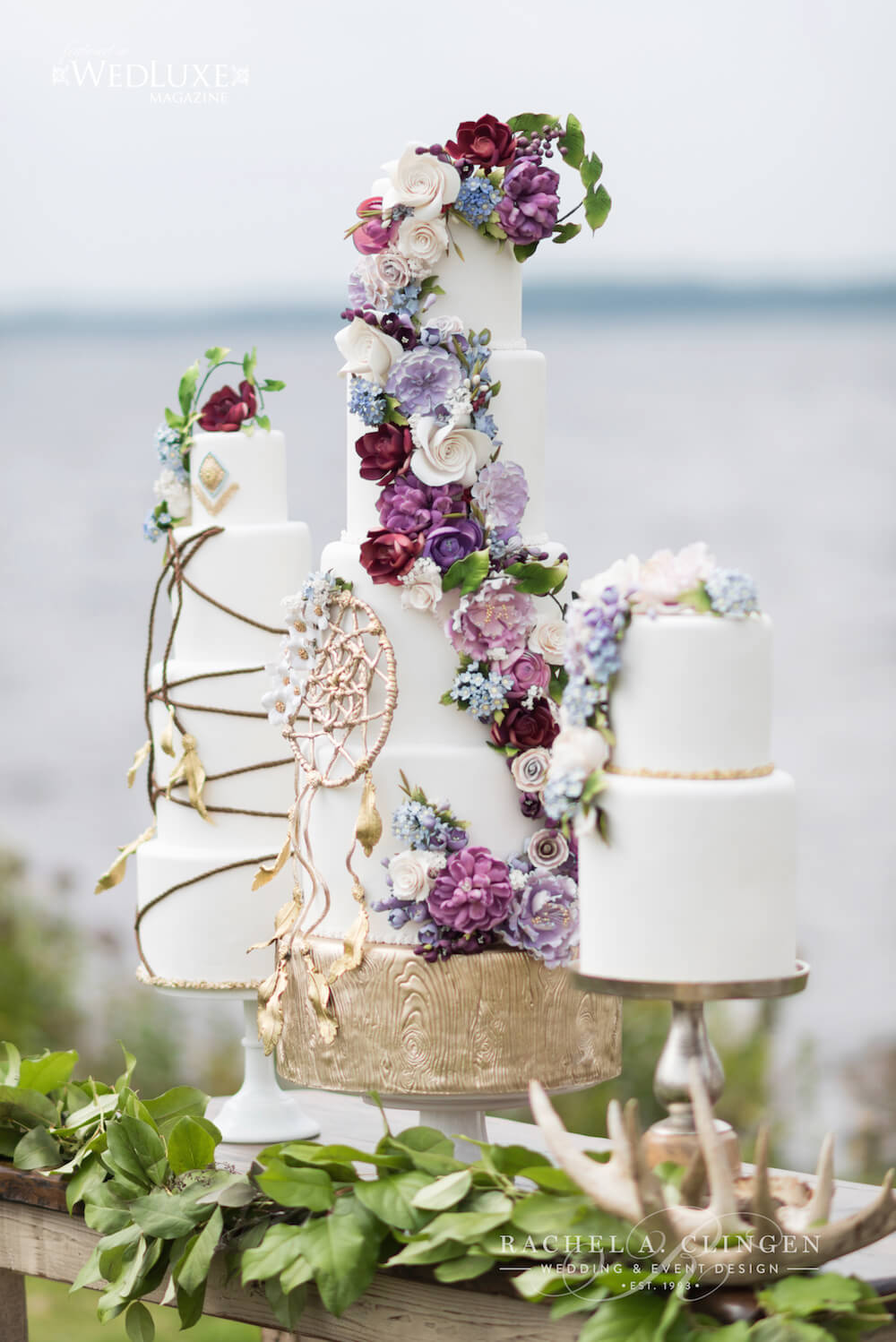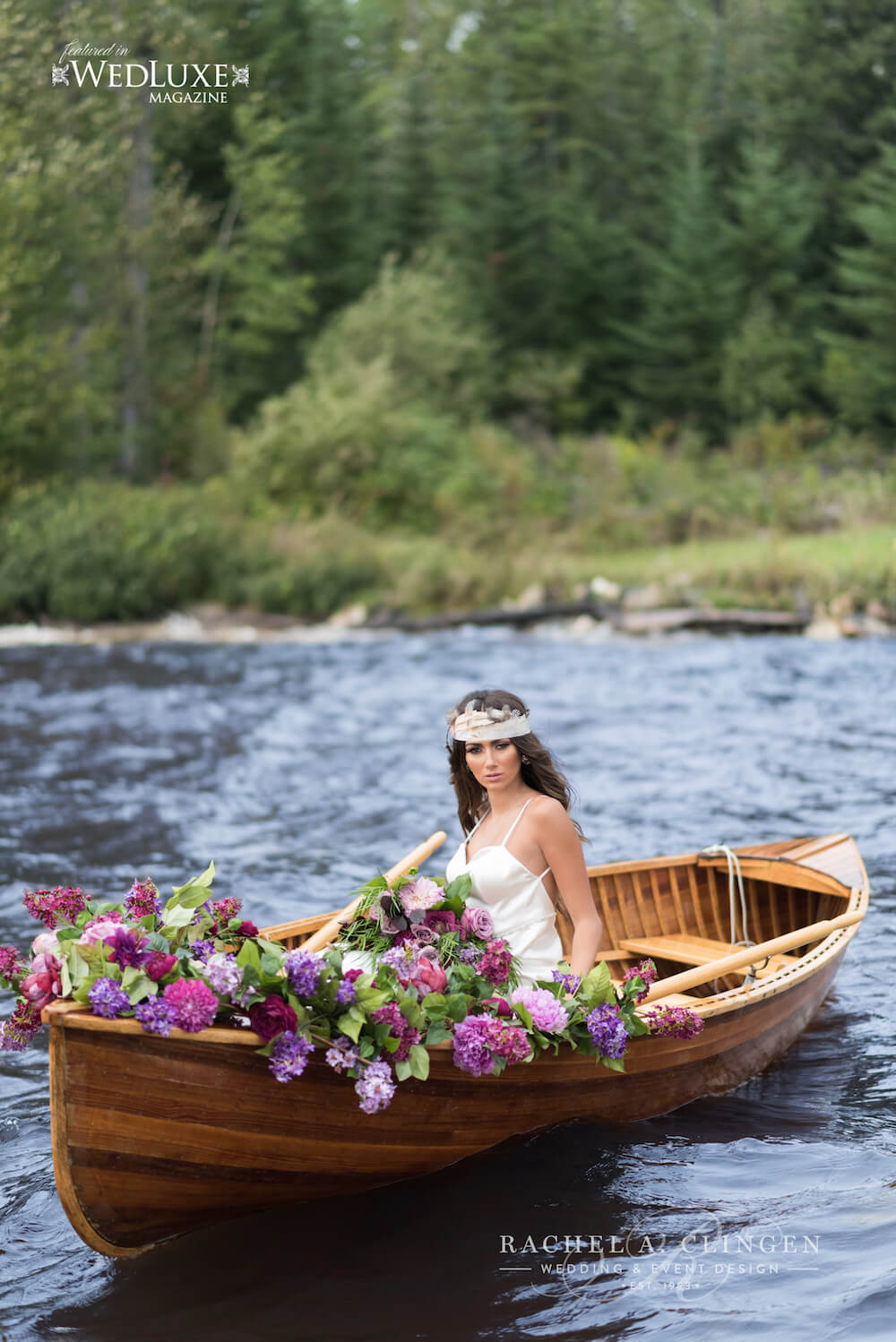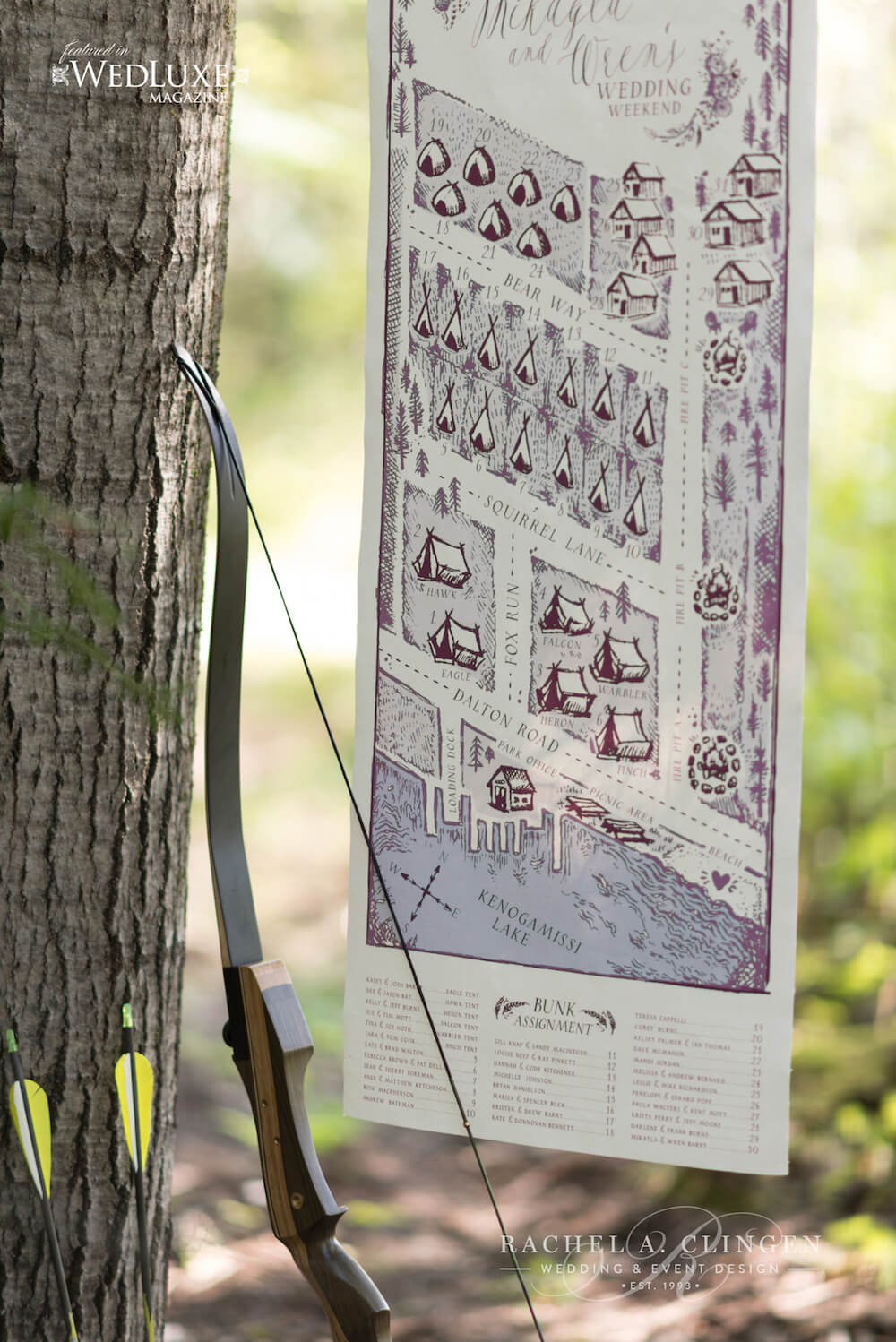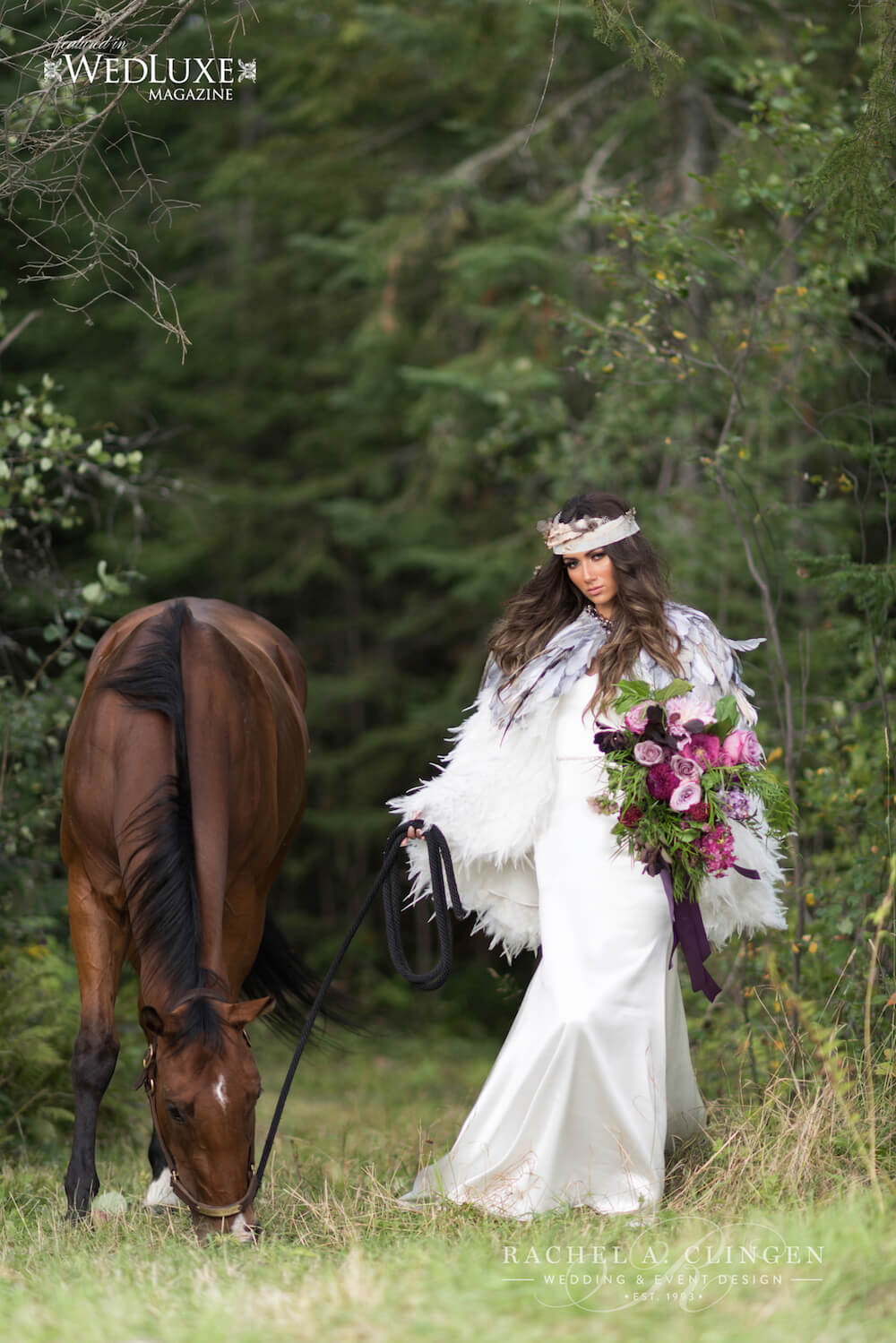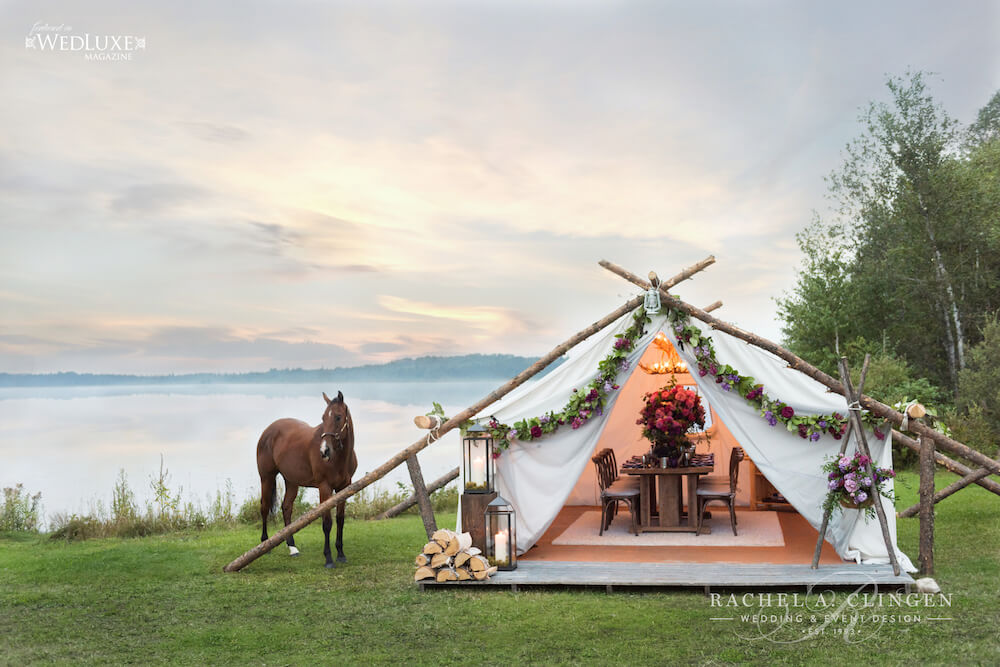 PHOTOGRAPHY, ART DIRECTION •
5ive15ifteen Photo Company
, CO-PRODUCER, CO-CONCEPT CREATOR AND CO-STYLIST •
Laura & Co. Events
 , CO-PRODUCER, CO-CONCEPT CREATOR, CO-STYLIST, FLORAL AND DECOR DESIGN •
Rachel A. Clingen Wedding & Event Design
 , CAKE DESIGN •
Fine Cakes by Zehra
, STATIONERY •
Paper & Poste
,  CUSTOM GOWN AND COUTURE FEATHER CAPE •
Valencienne
, FEATHERED HEADPIECE, HAIR STYLIST AND MAKEUP ARTIST •
Fancy Face Inc.
, CUSTOM RING AND EARRINGS •
Tara Fava Jewellery
, SHOES (BRIDE) •
Jimmy Choo
, FORMAL WEAR AND BUST •
Garrison Bespoke
,  BROWN VINEYARD CHAIRS •
Detailz Couture Event Rentals
, PROSPECTOR TENT, WOODEN HUTCH, CEDAR BOAT, WOODEN BED, AND SIDE TABLES •
WildExodus Adventure Travel
,  FLATWARE AND PURPLE WINE GLASSES •
Pier 1 Imports
, LEAF SIDE PLATES, PURPLE NAPKINS, SCARVES •
Indigo
, ICE BUCKET •
Pottery Barn
, S'MORES DESSERT • Fine Cakes by Zehra AND Laura & Co. Events, BABY FOXES •
Animals, On The Go
!, HORSE •
Clingen Quarter Horses
, MODEL •
Plutino Group
, CINEMATOGRAPHY •
Outside In Studio
, VENUE • WildExodus Adventure Travel